People play fantasy football for different reasons.
Some, are degenerate gamblers that do it for an opportunity to double or even triple their money.  Others, do it because they love the game of football.  Everyone has their own reason as to why they play.  But no matter what you're reasoning behind it-  we love fantasy football.  However, sometimes the hardest part about fantasy football, is separating your fandom from what's best for your money.  I've done 11 best ball drafts now and own Tom Brady in over 70%.  That's not because I love Tom Brady, but his value as a 12th or 13th-round option with very little left in the quarterback sea, is insane.
Now for me, when trying to separate my fandom from fantasy investment.  It has continued to come down to one factor- Kenyan Drake.  See, I own Drake in several keeper and dynasty leagues.  And year after year, he's either underutilized or pushed deeper down the depth chart because of an aging veteran.  Nevertheless, when given opportunities, Drake has proven more than capable of being a big-time NFL playmaker.  So we should be 100% confident in drafting Drake this fantasy season?  No, not exactly.
Because in today's NFL, it takes a tandem or sometimes even a trio, to have success running the football.
Enter, Kalen Ballage.
Ballage was a rookie favorite in last year's fantasy world.  And during the 2018 season, he was awarded 12 carries only twice throughout the 16-game campaign.  One thing is for certain, Ballage is a playmaker, that is more than deserving of his shares in the offense.  So which Dolphins' running back should you own in this year's fantasy season?  And how will the addition of Chad O'Shea and a New England-style mentality on offense, affect the running game.  Let's take a look.
Tale of the Tape
Kenyan Drake (ADP: 54)
College: Alabama
Height: 6'1
Weight: 211 LBs
2018 Stats: 120 carries, 535 yards, 4 touchdowns. 53 receptions, 477 yards, 5 touchdowns.
Regardless of who you ask, Drake was severely underutilized by Adam Gase over the last three seasons.  But what should not go unnoticed, is just how well Drake has dealt with this over his young NFL career.  He never complained when playing second fiddle to other running backs.  Nevertheless, it appears he will finally have his opportunity to prove he can be a three-down running back in the NFL.  Whether or not he gets that opportunity, has yet to be determined.  What we do know, is Drake averaged only 7.5 carries per game in 2018.  A number that should be significantly higher.  Even in a New England, with several mouths to feed, Michel only had one game where he received less than 7.5 touches.  Otherwise, he was consistently given the bulk of the carriers.
Drake has proven to be equally as valuable as Michel in both aspects of the game. And one area in which he excels is as a receiving threat out of the backfield.  In 2018, Drake was targeted 73 times in the passing game.  His 53 receptions placed him 14th in the NFL and 12th in receiving yards.  Couple that with his production on the ground and Drake makes for the perfect PPR running back.  But don't let the smooth taste fool you.  He is more than capable of being a HB2 in standard leagues and barring some unforeseen circumstances, should receiving around 20 total touches a game in 2019.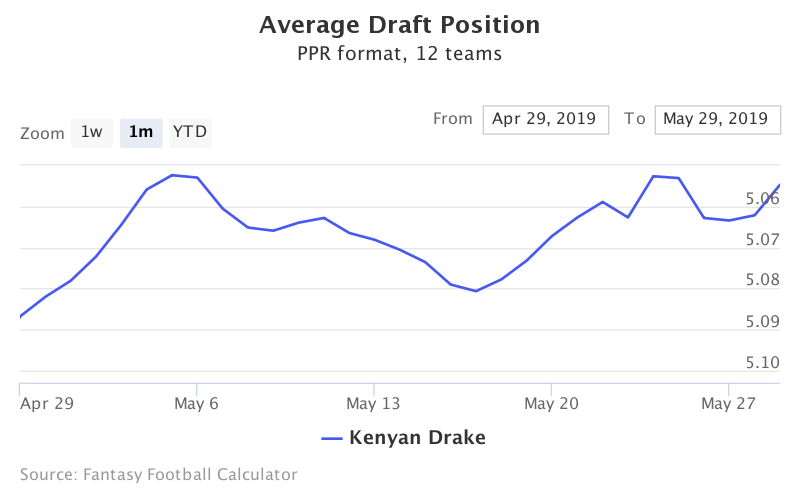 Kalen Ballage (ADP:178)
College: Arizona State
Height: 6'2
Weight: 237 LBs
2018 Stats: 36 carries, 191 yards, 1 touchdown. 9 receptions, 56 yards
Ballage is still a bit of an unknown commodity.   But we all know the mythical story about how he scored eight touchdowns in one football game. And at times last season, he looked like a more than capable NFL running back.  The question now surrounds whether or not he can make an impression on this coaching staff.  And ultimately, how much of Frank Gore's previous carries will he see opposed to Drake.  Don't get me wrong, both players are going to get their fair share of touches.  What each player can do with those opportunities will pay dividends.
In 2018, Ballage got the bulk of the carries just two times throughout his rookie season.  One was his week 15 performance vs the Minnesota Vikings, where he rushed for 123 yards and a touchdown on just 12 carries.  And then again in week 17 vs Buffalo.  Ballage rushed for 47 yards vs the Bills averaging 3.9 yards per carry.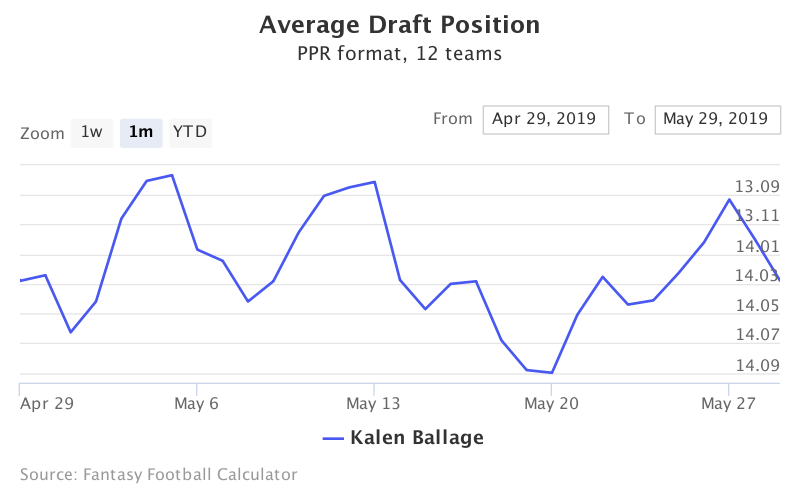 Crowning a Champion
It's way too early in the offseason to decide the victor of the running back competition.  However, what we do know is that regardless of whether you're #TeamDrake or #TeamBallage, the two running backs both have a role in O'Shea's offense.  And whether Ballage is called upon on short yardage and at the goal line.  Or Drake is given 20 carries a game and some targets as a slot wide receiver.  If history repeats itself, both players will be relied upon heavily and could have a teeter-totter affect on your fantasy lineup.  Furthermore, you must consider the remaining running backs, looking to feast off of every opportunity they get.  So whether it's taser-eluding Mark Walton, Myles Gaskin, Patrick Laird, or Kenneth Farrow, other running backs will get opportunities.
At the end of the day, if you have Drake in fantasy it would be wise to do whatever it takes to get Ballage.  But if you miss out on Drake, don't hesitate to roll the dice on the younger player with higher upside.  All it takes is a training camp injury or Ballage to get red hot-and the starting job could be his.  But until further notice, draft any Dolphins' running back with extreme caution.  In the end, the heart always beats the brain.  Which means inevitably, you will follow your heart and draft Drake and Ballage this fantasy season.  Even if the brain is telling you to avoid them like the plague.  Risk < Reward
This article was written by Josh Houtz (@houtz) he is a degenerate that enjoys long walks on the beach, IPAs and fantasy football.  
https://www.fivereasonssports.com/wp-content/uploads/FiveReasonsWebsiteLogo.svg
0
0
Josh Houtz
https://www.fivereasonssports.com/wp-content/uploads/FiveReasonsWebsiteLogo.svg
Josh Houtz
2019-05-30 00:47:48
2019-05-30 00:47:48
Fantasy Football 2019: Kenyan Drake vs Kalen Ballage