(Photo by Issac Baldizon/NBAE via Getty Images)
O Captain! My Captain! What Haslem return means for Miami Heat
The OG is back to protect the CULTURE for a 17th season. Jimmy Butler was the "orca" acquisition Riley had been craving, but don't discount the importance of bringing back Mr. 305 for the Miami Heat.
We all know the narrative around Haslem at age 39, UD has seen the twitter chatter too. Yet, anybody who questions what Udonis brings to the Miami Heat locker-room is either blind or ignorant. Rarely does the last man on the roster provide such unmeasurable value and return on investment. He's more than a player-coach. He's the literal human embodiment of HEAT CULTURE. That mantra we all love – The Hardest Working Best Conditioned Most Professional Unselfish Toughest Meanest Nastiest Team In The NBA – that IS Udonis Haslem. His entire life-story could be the first chapter in Spoelstra's Team Handbook, given to players at training camp. 
In 2016, HEAT fans were left bewildered and broken-hearted when Pat Riley and Dwyane Wade went through a bitter divorce. It felt like the world had been turned upside down. The infamous HEAT CULTURE was in peril. Who was there to pick up the pieces and keep it all together? The Captain. And truthfully, besides that season we all wish to forget, UD's presence has never been more vital inside 601 Biscayne Blvd.
Playing with Udonis Haslem is a right of passage if you're suiting up for the Miami Heat. That C on his chest wasn't just given to him. He's earned it! UD not only gets players to buy into the CULTURE, he enforces it. Just ask Quentin Richardson, who told a fantastic story of Haslem introducing him to HEAT CULTURE on his Knuckleheads podcast. How can we let Jimmy Butler start his Miami Heat tenure without Udonis Haslem by his side? It just wouldn't feel right. Jimmy yearns to have guys like UD alongside him in the fight. 
Last season was all about celebrating Wade's One Last Dance tour. This season should be all about passing on the torch to the next generation. The process has already started, especially with Bam, as Haslem noted in an Instagram post that made all of Miami misty-eyed. But his mentorship goes beyond Bam. UD has a tremendous impact on every player that dons a Miami Heat jersey, on and off the court.
Need some proof? Look no further than this exceptional write-up from local legend, Barry Jackson, where Goran Dragic gushes over UD's importance to this team. He's clearly Spoelstra's most trusted advisor and confidant. When a message needs to be delivered to the team, all he has to do is look down the bench at #40. Not only does Udonis know exactly what needs to be said, but it's the emotion, honesty and Championship experience behind those words, that resonates with players. 
And this season, with the loss of Juwan Howard, who else can Spo lean on to be his "player-liason" when things get a little rocky – because they always do. That's not a knock on Spoelstra, but we all know his history. At one point it was Fizdale that would help smooth things over between Erik and a player. When Fizz left, that role was handled by Juwan Howard. Well, now Juwan is in Michigan.
Spoelstra needs that extra voice to help instill confidence in whatever decision he's making. Especially in regards to players falling in and out rotations, sometimes overnight. Nobody knows that better than Udonis who rapidly went from the starting lineup to the end of the bench. That's something to keep in mind if Spoelstra wants to insert Justise Winslow as his starting PG and have Goran Dragic run the second team. Haslem, the ultimate team first warrior, is the perfect person to help Goran transition mentally into this new role as sixth man and mentor to #PointJustise. 
Point blank, Udonis Haslem can go out anyway he wants. He's earned that! The man that leads HEAT Nation into a frenzy anytime he hits a baseline jumper, grabs that last rebound, or tell Lance Stephenson that he's going to f*** him up, and that's real – a personal favorite of mine.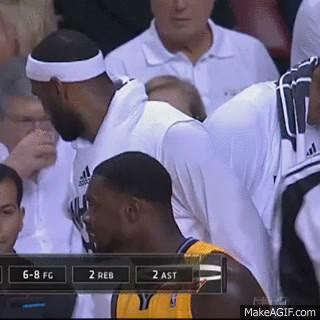 UD that has shed blood, sweat and tears for the city he loves and the state tattooed on his back.
That type of leadership never gets old. That's why Miami loves him. 
That's why #40 will hang in the rafters. 
That is why he's the Captain.
https://www.fivereasonssports.com/wp-content/uploads/image.jpeg
559
850
Alex Musibay
https://www.fivereasonssports.com/wp-content/uploads/FiveReasonsWebsiteLogo.svg
Alex Musibay
2019-08-10 19:03:54
2019-08-12 12:20:37
O Captain! My Captain! What Haslem return means for Miami Heat